Akira – The masterpiece of manga and Japanese animation
Akira, Katsuhiro Otomo's post-apocalyptic masterpiece, is the perfect example of the fact that there is no need for psychic powers to masterfully adapt a "cellulosic" origin story to the animated big screen. But … How would it feel for Tetsuo, Kaneda and Akira himself to become true beings of flesh, bone and ectoplasm? Today, let's review the reasons why a real picture film of Akira could be a real mental explosion (in a good way). 
UPDATE: On July 16, 1988, AKIRA , the animated film based on the manga by Katsuhiro Otomo, which has become one of the best and most influential works of the 20th century, was released. That means that yesterday was the  30th anniversary of Akira , so we took the opportunity to refresh this report in which we review the work (in its different formats), the scope of its influence in film, literature and videogames, and reflect on why A real image adaptation may not be as bad an idea as it seems.
ORIGINAL TEXT (15/01/2015): Back in 1982, Katsuhiro Otomo gave birth in the pages of Young Magazine to a story about friendship, social rejection and the price of power … Psychic. Your name: Akira. His style: Without precursors. Visceral. Cyberpunk The popularity of the manga was soon growing as the foam, to the point that it was one of the first "Japanese comics" that were translated entirely into other languages. So it is not surprising that, even before the end of the history of the problematic Tetsuo was published, Otomo already had on the table the possibility of taking his work to the big screen through an animated film. The genius, who had already suffered in his flesh the disastrous results of allowing someone else to direct the adaptation of one of his works, accepted the offer with the sole condition of being at the forefront of the creative direction.
The project was in good hands, now, just needed to get adequate funding. And given the success of manga around the world, it was not a problem. So, in front of the film, we had a person who felt the same attachment to the original material that a father feels for his son, had a brilliant creative mind and had pockets full of bills, what could come out wrong? Well indeed: NOTHING. Akira (the movie) was an instant hit, even in spite of the huge amount of clippings that the manga argument suffered. Because without a doubt, what shines the most in Akira is the technical section: an unparalleled animation, with a level of quality never seen before, which was (and still is) praised in all corners of the globe.
The work of Katsuhiro Otomo was a turning point not only for Japanese animation films, but for all the science fiction stories that have come later. How long is Akira's shadow in the modern world? You only have to look at the most important sci-fi films of the last ten years. With almost total security, all are inspired to a greater or lesser extent by manganime stories ( The Matrix drinks "very much" from Ghost in the Shell , to mention an example), and these in turn made Akira his ten commandments to follow.
As expected, the work came to be considered 'cult', being forced reading / viewing for any fan of good stories, animation, post-apocalyptic stories, science fiction and, in short, the general freak. The manga soon received various luxury editions for each of its 6 volumes, while the film has been reissued a thousand and one times, both on VHS, DVD, HD DVD, and Blu-ray. It is interesting to note that in Spain, we have heard no less than three different Spanish dub: cinema / VHS, first edition on DVD and second edition on DVD, being the first one the most remembered but also the most 'free' (if you are interested in theme, here is a video that compares the three dubs). And of course there was also some other adaptation in video game format: a very unfortunate side-scroller for AMIGA and an exclusive conversational adventure of the Japanese market for NES, as well as several projects that unfortunately never came to light in Super Nintendo, Mega Drive and Mega-CD … And that without forgetting K9999, the character of The King of Fighters cousin-brother of Tetsuo.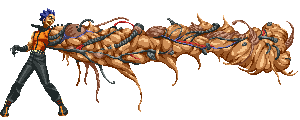 And what about the real picture film? The possibility of an Akira film with actors of flesh and blood for two decades is being considered. Many are the names of actors who have played throughout the years to play Kaneda and Tetsuo: James Franco, Michael Fassbender, Keanu Reeves, Leonardo DiCaprio, Andrew Garfield … A project that, in theory, is in hands Director Jaume Collet-Serra and is still strong, although seen the lack of news, we can only show skeptics about it. Although, yes, several sketches of the American adaptation have come to light . On the other hand, some people have dared to take Akira's approach to the cinema from another point of view, see the case of Chronicle (2012), although moving away from what we could expect from a movie based on the universe of Katsuhiro Otomo. All these irregularities have led many to think that a real picture film of Akira is not only possible, but not necessary either.
We tell them all: you can not be more wrong! And for show, a button: The Akira Project was an initiative carried out by a group of fans who, like us, wanted above all things to contemplate on the big screen a live-action adaptation of Akira . After resorting to crowdfunding, the group managed to bring to light an impressive trailer that shows that an Akira movie with real actors is not only very necessary, but also a bombshell of epic dimensions. Open your eyes wide and contemplate (if you have not already done so) the trailer of The Akira Project . 
No matter how many times we see it, it is still a roller coaster of emotions that makes our hair stand on end. The choice of actors is especially brilliant, highlighting the role of Osric Chau , whom you are likely to recognize for playing the Prophet in the Supernatural series, and whom we had the pleasure of interviewing during WizardCon. Also noteworthy is the very intelligent and appropriate choice of the soundtrack of Deus Ex: Human Revolution , which fits perfectly with the cyberpunk theme that predominates in Akira.
If some fans have been able to do this out of love for Akira, what will not a renowned director be able to do next to a big producer? Yes, it is a fundamental requirement that you know the work and have it in high esteem, so the ideal choice would be Otomo himself: he was the perfect candidate to adapt the manga to the anime, and at 60, he is still the perfect candidate to convert it. in a real image adaptation. However, we see quite unlikely that the genius lends itself to shoot such a super production at this point not having done it in the past, so we're going to get wet with two 'Hollywood' candidates: Zack Snyder made magnificent adaptations of 300 and Watchmen, and although In recent years he seems to be in the doldrums, if he has the right motivation he could do a great job. Lost ', makes us think that it would be a great candidate.
As for the roles of Kaneda, Tetsuo and Kei, we have it clear: they have to be actors of Asian origin. Osric Chau has convinced us as Kaneda so there is no more to add there. For his part, Tetsuo could come alive in the skin of Steven Yeun: thanks to his role as Glenn in The Walking Dead he has shown to be able to adapt to all kinds of situations; Imagine it with crazy long face hair, right? Finally, for the role of Kei, we can not think of anyone better than Rinko Kikuchi, whom we already saw as a woman of arms to take in ' Pacific Rim '. And speaking of Kikuchi, we think she would also be the perfect cadidata to play Lt. Motoko Kusanagi, instead of Scarlett Johansson as the protagonist of Ghost in the Shell.
And now it's your turn: tell us who you think would be the ideal director to bring Akira to life, and who would be the most suitable actors to convey the emotions of Tetsuo and Kaneda. You can also justify why it would not be a good idea to make an adaptation with real actors, but … Are you sure you would not like to see this scene again on the big screen?