Frostpunk wins BIG Festival 2018 Best Game Award
This year's BIG Festival is coming to an end, and yesterday (28) the best games were awarded. In the Best Game category, the winner was Frostpunk, a game from the Polish studio 11 bit Studios, which went home with the best award of the festival. The festival is known for awarding independent games from Brazilian and international developers, now in its sixth edition.
Frostpunk's synopsis says, "In a completely frozen universe, people have developed a steam technology to deal with the cold. The society in its current format has become ineffective and needed to be altered to survive." The game also allows players to create and build cities and societies, and acquire survival and strategy skills, all set in the years 1886.
Regarding the category of Best Brazilian Game, who won was the title No Heroes Here, Mad Mimic Interactive, which also won the award for Best Game by Popular Vote. Other Brazilian games have also won some categories, such as Fofuuu and Big Impact: Educational, for Best Children's Game.
The categories in this edition were 15 in total, with three being added this year, which are: Best Student Game, Best Multiplayer and Best Kids Game. In addition, the categories and their respective winners (in bold) were:
Best Game:
Dead Cells (Motion Twin) from France

Frostpunk (11 bit Studios) from Poland

39 Days to Mars (It's Anecdotal) from New Zealand

Semblance (Nyamakop), South Africa

Cultist Simulator (Weather Factory), UK

Galaxy of Pen and Paper (Behold Studios), Brazil

UNSIGHTED (Studio Pixel Punk), from Brazil
Best Brazilian Game:
Rock & Rails (Black River Studios)

UNSIGHTED (Studio Pixel Punk)

Galaxy of Pen and Paper (Behold Studios)

No Heroes Here (Mad Mimic Interactive)

Hexarmonic (6 side studios)

Alkimya: Memories of the Last Alchemist (Bad Minions)

Radar Warfare (DreamRoad Productions)

Roguemance (Lucas Molina)

Until Dead – Think to Survive (Monomyto Game Studio)

IN (Epic Games)
Best Latin American Game:
Ship Ahoy! (OKAM Studio), Argentina

Rock of Ages 2: Bigger and Boulder (ACE Team), Chile

Iron Marines (Ironhide Game Studio), Uruguay

The Last Friend (The Stonebot Studio), El Salvador

Darkestville Castle (Epic LLama), Argentina
Best Art:
Dead Cells (Motion Twin) from France

39 Days to Mars (It's Anecdotal) from New Zealand

Chuchel (Amanita Design), Czech Republic

Semblance (Nyamakop), South Africa

Luna (Funomena LLC), United States

The Gardens Between (The Voxel Agents), Australia

Haimrik (Below The Game), Colombia
Best Narrative:
Path to Mnemosyne (SPHERICAL PIXEL SL) from Spain

39 Days to Mars (It's Anecdotal) from New Zealand

Tacoma (Fullbright), United States

Where The Water Tastes Like Wine (Dim Bulb Games), United States

The Mooseman (Vladimir Beletskiy), from Russia

All Walls Must Fall (inbetweengames UG) from Germany

STAY (Appnormals Team), Spain
Best Gameplay:
Frostpunk (11 bit Studios) from Poland

Dead Cells (Motion Twin) from France

Keyboard Sports – Saving QWERTY (Triband) from Denmark

Semblance (Nyamakop), South Africa

Cultist Simulator (Weather Factory), UK

DYO (Team DYO), Germany

Slime Rancher (Monomi Park), United States
Innovation:
Tacoma (Fullbright), United States

DYO (Team DYO), Germany

Haimrik (Below The Game), Colombia

Cultist Simulator (Weather Factory), UK

Motif. (Yeta Game), Turkey

At Sundown (Mild Beast Games), United States

FROST (kunabi brother) from Austria
Best sound:
Double Kick Heroes (Headbang Club) of France

Chuchel (Amanita Design), Czech Republic

Rhythm Doctor (7th Beat Games), Malaysia

Luna (Funomena LLC), United States

39 Days to Mars (It's Anecdotal) from New Zealand

Hexarmonic (6 side studios), from Brazil
BIG Impact: Educational Category:
Rango Cards (Fira Soft), from Brazil

Marvellous Inc. (Marvelous Soft), Brazil

Alphabet (Spacefrog), Brazil

Slice Fractions 2 (Ululab), Canada

Water Generation (Feeval University – LOA – Laboratory of Learning Objects), Brazil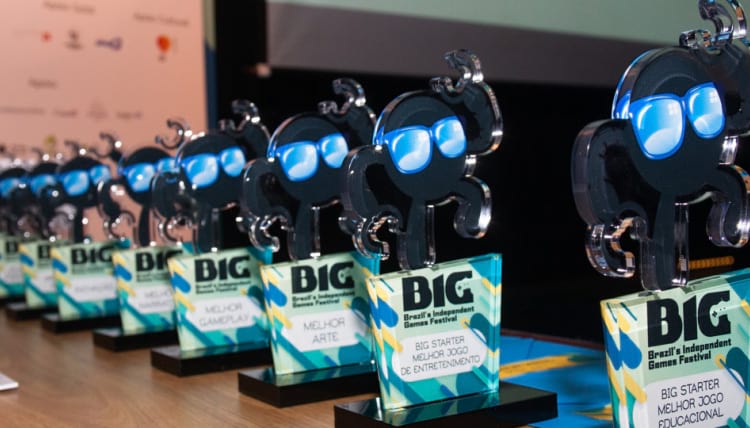 (Photo: Young Nerd)
BIG Impact: Category Social Issues:
Fofuuú (FOFUUU TECHNOLOGICAL SOLUTIONS FOR HEALTH AND EDUCATION LTDA), from Brazil

The Mooseman (Vladimir Beletskiy), from Russia

Blossom (PugCorn), from Brazil

HEADLINER (Unbound Creations LLC), United States

Lenin – The Lion (Lornyon – João Bueno), from Brazil
Best Student Game:
DYO (Developed by Team DYO at the HTW Berlin Institution), Germany

Muddledash (Developed by slampunks, at the University of Edinburgh Institution), UK

At Sundown (Developed by Mild Beast Games, at the University of Southern California Institution), United States

Motif. (Developed by Yeta Game at Hacettepe University & Gazi University from Turkey), Turkey

Impulsion (Developed by Driving Force Games, at the Institut de l'Internet et du Multimedia), France
Best Multiplayer:
ARENA GODS (Supertype), United States

In Heroes Here (Mad Mimic Interactive), from Brazil

At Sundown (Mild Beast Games), United States

Muddledash (slampunks), UK

Treadnauts (Topstitch Games), United States
Best Children's Game:
Chuchel (Amanita Design), Czech Republic

Alphabet (Spacefrog), Brazil

Luna (Funomena LLC), United States

Fofuuú (FOFUUU TECHNOLOGICAL SOLUTIONS FOR HEALTH AND EDUCATION LTDA), from Brazil

St. Ives (StoryMax), Brazil
Best Virtual Reality Game:
Luna (Funomena LLC), United States

Ship Ahoy! (OKAM Studio), Argentina

The Invisible Hours (TEQUILA WORKS), Spain

Primordian (Stonepunk Studios, LLC), United States

Rock & Rails (Black River Studios), Brazil