How to download and play Free Fire Battlegrounds on PC?
Free Fire Battlegrounds is a multiplayer battle game for Android and iOS from 111dots Studio. The game was in public beta for a while before being officially released on December 4. It has a wide variety of weapons to choose from and you can drive vehicles on a large map. 
This is one of the best games of this style for mobile devices. But did you know that you can play Free Fire on PC? Check out the tutorial below and learn how to do this.
Does it Play Free Fire Battlegrounds?
In the game, you will join in the battle to the other 39 players, will kill everyone to survive on a large island. In addition to playing on the phone, players can also play Free Fire on their computer with an Android emulator . There are many different emulators, most of which can help you to try Free Fire on your computer. The gameplay on the computer is good on most emulators, and the setup is pretty simple.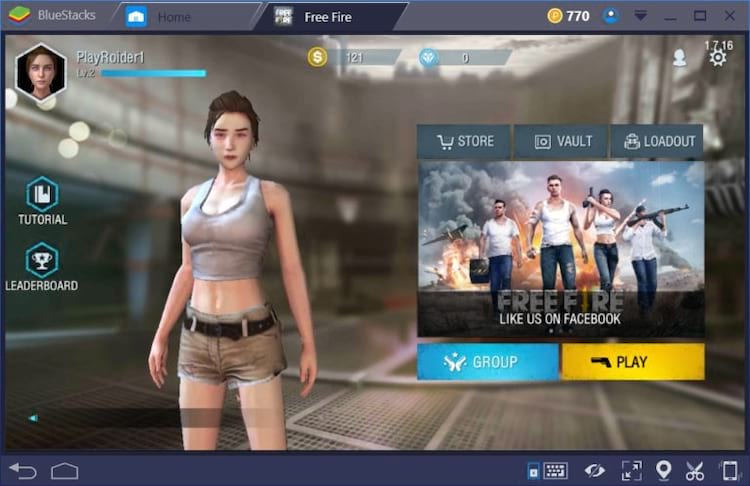 Free Fire Battlegrounds on PC
The graphics of the game are extremely high definition, with bright and vibrant colors, spectacular animations and special effects and, above all, the highly realistic character designs.
The game is free to download and play, so you can enjoy it for as long as you want, without any restrictions.In addition, it is a very simple and easy to understand game.
How to Play Free Fire Battlegrounds 
Explore the map to acquire weapons and use them to take down your opponents. Play with a squad and pull back from each other to be the last to stand.
In this game, you will fight against the other players on an isolated island in an attempt to be the last player alive. When a battle begins you will be cast on the map and after that you will have to search for weapons and equipment that will help you to annihilate any opponent in your path. It is important to remember that you need to be always alert because you can be caught at any time.
While it may seem like the game has become repetitive over time, know it, because there is an insane variety of weapons and equipment that players can use. Since there are so many different weapons to choose from, you can change your playing style in every match, and this helps keep the experience refreshing and immersive for all players, even if they play for hours and hours every day.
How to download and play PUBG mobile on PC?
To play Free Fire on PC, you will need an emulator first. If you do not have one installed on your machine, check below which ones you can use.
How to play Free Fire Battlegrounds on PC
Step 1:  Download and install the latest version of one of the Android emulator for PC: 
Step 2: Open the Emulator, enter the Google Play Store, find Free Fire and download;
Download Free Fire on your PC
Step 3: If you see the message " This app may not be optimized for your device ", skip and continue downloading;
Step 4: Start the game and log in to the main menu;
All game actions can be mapped to keyboard and mouse. Here is a configuration of PC controls with Nox.
Free Fire Battlegrounds Controls on PC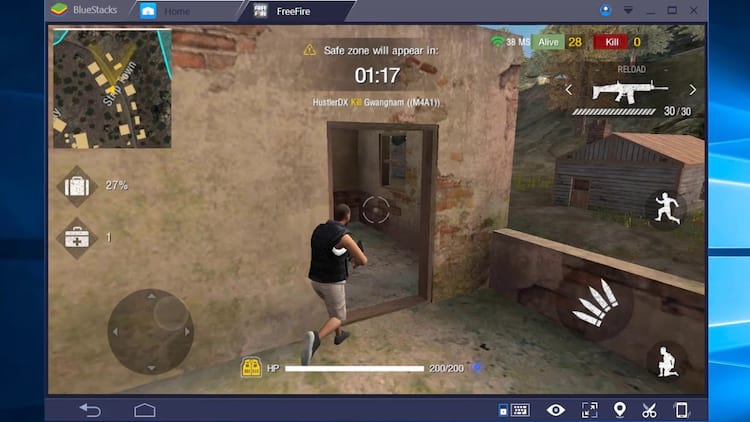 Free Fire Battlegrounds Controls on PC
Left mouse: firearm

Right mouse button: toggles the shooting mode

WASD: Move

Q: Switch weapon

A: Reload

SPACE: Jump

C: Crouch

X: prone

Z: run

F: Eject by plane, get in / out of vehicles, etc.
For vehicles
I: Speed ​​up

K: brake / reverse

J: Turn left

L drive right
You can also configure the controls to your liking!
Performance Tips for Free Fire Battlegrounds on PC
The game is slow or slow
If the game seems delayed, make sure that your computer has at least the following settings:
2 CPU Cores

2GB of RAM

DirextX Graphics Mode
Very high sensitivity
If you are having problems with your mouse moving too fast, try lowering the sensitivity in the game settings to a range of 0-6 for best results. Do not forget to adjust the sensitivity levels for scopes too.
Alerts on playing Free Fire Battlegrounds on PC
Alert 1: Playing Free Fire Battlegrounds through an emulator is not free to have problems like lag, black screens and game crashes.
Alert 2: Players should also be aware that using these programs, you run the risk of banning the account from your email address.