Huawei Share: this is how the file sharing tool works between several phones or with the computer
The mobile is usually the center of all our operations. We take photos, we receive them and we save them, but we also send them to the computer or other mobile phones. In Android we have tools like WhatsApp or My Drop that allow us to share files easily . But many times we have something short. Today we come to explain Huawei Share , a very complete tool available on the Honor and Huawei devices to send files, either to the computer or between the company's own mobiles.
Huawei Share comes pre-installed on all brand new mobile phones with EMUI 8.0, although not all of them have the complete pack accessible. We are going to divide this small tutorial into two parts. On the one hand, sharing files with the computer , which is currently reserved for the high-end. In a second place we will explain how to use Huawei Share to send files between Huawei devices without the need to activate mobile data . A trick that can get us out of trouble on more than one occasion.
Share files with your computer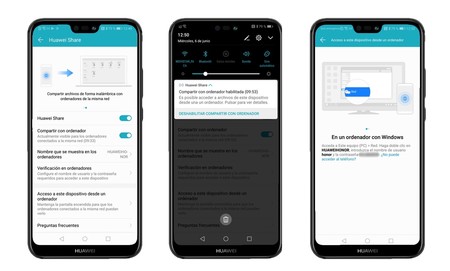 The first use we can make with Huawei Share is to share files with the computer and vice versa . It is a surprisingly quick method of moving images or documents from one place to another. In fact, it will be a matter of drag and drop.
To configure it we must have a Huawei phone first. We have been able to test it in an Honor 10, but models like the Huawei P20 and P20 Pro are also compatible. This is a new feature, but as the months go by it will be coming through updates to the rest of the manufacturer's devices.
The first step is to go to the quick settings. There we will have a Huawei Share icon. When clicking on it, we will go to the Huawei Share settings where we can activate it, configure the sharing with the computer, establish the name that will be displayed and add a username and password that will be the only thing we need in the computer. Huawei Share does not require prior registration .
Huawei Share allows us to pass files to the computer and vice versa as if we had connected them by cable, except through WiFi Direct.
Once the user and password are configured from the mobile, the next step is to go to the computer. Huawei Share works on Windows, MacOS and Linux . What the application does is create a Samba server to share files through WiFi Direct.
In the computer we must go to the file folder and click on network . There, it will automatically detect the device and ask us to insert the user and password that we have previously set. It is a similar mechanism to link by bluetooth.
Once linked with the Huawei or Honor mobile phone, we can access the mobile folders from the computer, as if we had connected it by cable, except that we are linked wirelessly.
Now it only remains to pass files from one side to another as if it were a USB. The most common is to choose an image of the PC and copy it to the downloads or music folder. We can also do the opposite step. If we want to look at the images of the mobile they will be in the DCIM folder. It's really simple and one of the fastest ways to pass files from one place to another .
Send files between Huawei phones
The following method works with all Huawei and Honor mobiles with EMUI 8.0. From the quick settings we will see the Huawei Share button and the only thing we must ensure is that it is active.
If you have it on, moving files from one mobile phone to another will be as simple as giving the share button, where the Huawei Share option will appear . In case we have another Huawei or Honor phone nearby, the system will detect it and will show us a small avatar with the name of the other mobile. Now you only need to click on it and the image or file that we are sharing will be sent.
If you want to share files, photos or documents between Huawei or Honor phones, with this tool we do not need data, it is very easy to use and the transmission speed is enormous.
The other person will receive a notification that they are about to receive a file. If you accept, it will start to download, with a speed much higher than Bluetooth .
If you have a mobile of this brand, we strongly recommend that you try this option. A tool that once you know it, becomes essential to send files from one site to another.