The passage of the Xiaomi Mi A2 by Geekbench anticipates its arrival in the market, perhaps this same month
We did not wait for the Mi A2 until the end of summer. The times marked by Xiaomi in the previous generation, formed by the Xiaomi Mi A1 which in turn was a version of the Xiaomi Mi 5X, set the release of the first in the month of September. If the year is completed, we would have to wait until that month for the arrival of this second generation, but it seems that everything is rushing.
With the Xiaomi Mi 6X already presented, and anticipating what is to come, the rumors about the Xiaomi Mi A2 intensify and the last thing we have about him is his time in Geekbench. One of the best known synthetic tests of the mobile market has shown that the Chinese manufacturer is already subjecting the Mi A2 to its corresponding performance tests, and that announces that its arrival in the market should be close.
Oreo 8.1 and Snapdragon 660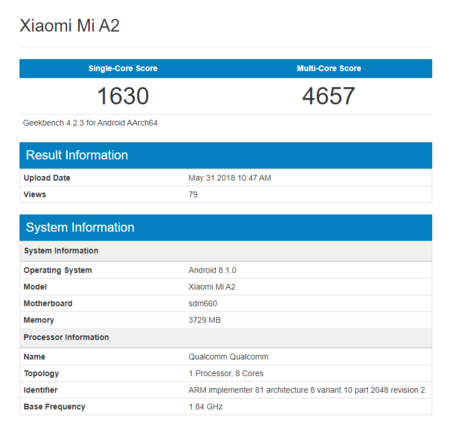 With a Snapdragon 660 at the forefront of operations, the 4GB model of the future Xiaomi Mi A2 has already passed its corresponding power test. 1,630 points in the tests for a single core and 4,657 points in tests for several cores , all with Android One as the version chosen for its operating system, and with version 8.1 of Oreo, the latest available until Android P arrives
The performance test now appears also corresponds to the last day of last May. On the 31st, the Xiaomi Mi A2 went through Geekbench to show what it was capable of and only two months have passed since its natural predecessor, the Xiaomi Mi 6X , hit the market. That puts us before the tessitura that a presentation in this same month of June does not seem crazy at all.
The phone should arrive, if it is a variation of the Xiaomi Mi 6X, with a double lens in the back formed by two sensors of 12 and 20 megapixels, with a sensor for selfies of 16 megapixels and with a screen of 5.84 inches with aspect 18: 9 . Nothing of notch for a future phone that must fix some aspects of the past My A1 , such as the presence of fast charge on the battery.
The passage through Geekbench anticipates, as we said, an early arrival of this Xiaomi Mi A2 to the market and we already know that next 12th we have an appointment with its manufacturer . There we will see the birth of the next generation of the basic Xiaomi Redmi, the one formed by the Redmi 6 , will we also have the surprise of the arrival of the Mi A2 or will they reserve for it an exclusive event? We will see.