We tested Notion for Android, a work app ready to make things difficult for Evernote and Trello
There are never enough good productivity tools and apps and today we present you with a very complete one. To simple features, Notion is an editor to take notes, create wikis for teams or manage and organize tasks collaboratively, all from the device you prefer . Your options are available on desktop computers, iOS for a while and, now, just landed on Google Play to offer all its services to owners of an Android.
One of the objectives of Notion is to provide in a single space all the tools required by a team, although it is possible to use it as a very flexible personal notebook . Simple, aesthetic and direct in its use. According to its developers, a good replacement for Google Docs or Evernote , even the popular Bear is exclusive for iOS and MacOS.
Starting your workspace
The first thing the application asks you once installed is the use you are going to give it . to establish the first characteristics that you will see, and also to guide you in the commercial plan that you should access. You must specify to Notion if you are going to use the app as a tool for personal or work productivity and, if it is for work, if you are going to use it alone or what size is the team you are going to invite to collaborate: less of five people, from five to 20, between 20 and 100 or a large group of more than 100 people .
In the next step, Notion intends to classify your work obligationsaccording to the professional occupation that best describes you. Customer service, design, human resources, programming, entrepreneurial business … This step will also define the templates you will see and which will be your first contact with the multiple possibilities of content types that Notion allows.
Then it's time to configure the application . To begin, it is necessary to establish the name of the workspace, to identify it with the team. The URL is customizable , so remembering your own channel (www.notion.so/xataka, for example) and then sharing it with the rest of the team members is very easy. In this first step it is also possible to establish the emails that will automatically be accepted as members with the right to edit once they enter the defined space.
It is possible to manage notifications (specifically, activate or deactivate push notifications or notifications by mail). Any page you follow or mention will generate a warning if you request it. Working offline is also facilitated by the Notion. All those pages that you have created are in offline mode so you can browse and continue using them even when you have lost your connection.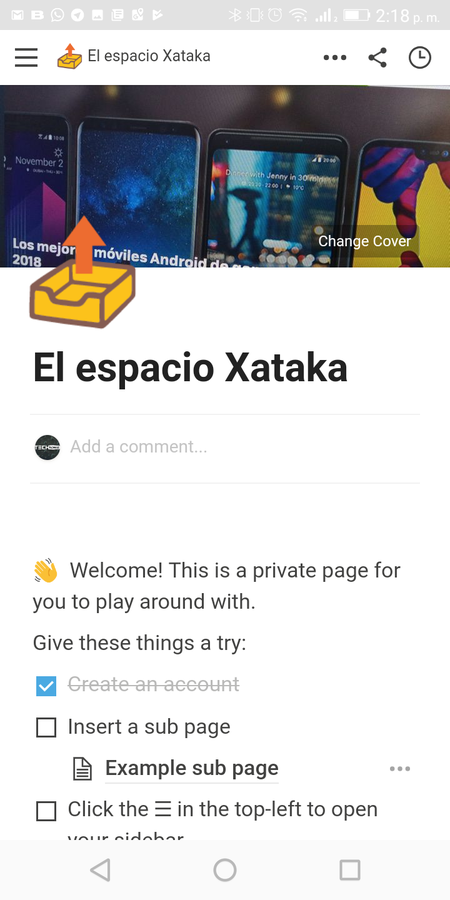 At any time you can check your doubts : you have the "Help" section, below the whole of the left column, which includes a summary of the latest news , a list with keyboard shortcuts , tutorials and guides and even an internal chat where to ask their leaders, who promise to answer everything.
Flexibility and many possibilities
Teamwork requires many planning and orientation tools , as well as space to create content. Notion offers all those possibilities. All of them come with examples and templates to understand their operation right away. We will explain the options available and the different types of content it allows.
Creating task lists

 : Moving the different elements of a list in Notion is 

very convenient

 since it allows you to 

drag and drop them

 easily, besides being able to 

create boxes

 to mark those tasks already completed. These tasks can be 

organized in calendar view

 , according to their delivery date, in 

kanban tables

 , specially designed for developers (which also have facilities to 

integrate lines of code

 with good readability), or in simple 

dynamic tables

 .

Generation of content pages

 : Have an article, blog or rich document appearance, Notion allows you to establish a new page where you can enter 

titles

 , images -or emojis- of 

header

 , links, upload documents, 

insert maps

 and tables, comments threads or panels of any kind. You can even insert views of dynamic calendars, with their respective 

tasks with delivery date

 .
Wikis

 : In what Notion calls " 

Knowledge Base

 ", each created page 

can be linked to the next one

 and, with that, the structure that any wiki system can have starts. Its creation is very simple and, once linked, the page 

can move to other levels

 very easily, either with the option integrated in each of them or by pressing and holding the finger to move that page between the different 

levels that marks the left column

 . The column shows the 

linked elements

 in the same workspace.
Notion pricing and availability plans
The initial price is totally free , although with quite limited features . Free access is clearly oriented to understand the operation dynamics of the application and, if it is convincing, to allow more convenient access to payment plans .
Although the free plan allows an unlimited number of collaborators , it soon begins to notice the restriction in the upload of files, up to 5MB of maximum weight , or the storage limit of up to 1000 blocks (that is, up to a thousand elements that can be an image, calendar, document, table or map, starting at $ 4 per month , the account of a single member comes without limitation of space or weight limit in the files you upload, as well as advanced permits and priority support .
Work team payment is a fee of $ 8 per member and month as part of all the benefits mentioned by paid version includes tools admin . The Enterprise account, finally, is aimed at those teams of more than 50people and they need to contact the people in charge of Notion to establish exact rates.
Notion is a multiplatform service . All your notes and tasks are synchronized and accessible from a mobile device, Mac , Windows or any browser. You can start working at your desk, continue on the bus with an iOS or Android phone , and end up in the browser of any screen with aninternet connection .
Complete and nice work tool
Nowadays, when the same technology is accessible to all developers and there is so much competition in the world of mobile applications, aesthetics is the great differential element in which startups that reach the market must deepen. Notion has developed a very flexible application that is easy to use and understand, and above all, visually attractive .